Description
Protects frozen food from defrosting.
Adding new food to the freezer raises the internal temperature, which can result in defrosting and a loss of flavour. The SuperFreezing function ensures that new food is frozen quickly and thereby prevents the other content inside the freezer from defrosting. Appliances with an automatic freezing function return to normal operation once the required temperature is reached, in order not to waste energy. As a result, frozen food keeps its flavour, even when new food is being added.
The fridge that knows how to keep it's cool.
Activate the SuperCooling function before you go shopping to lower the temperature in your fridge for a short period, so your fresh shopping is kept at the right temperature. The temperature is lowered by pushing a button (2°C at the lowest). To prevent unnecessary power consumption, the function automatically switches back after approximately 6 hours.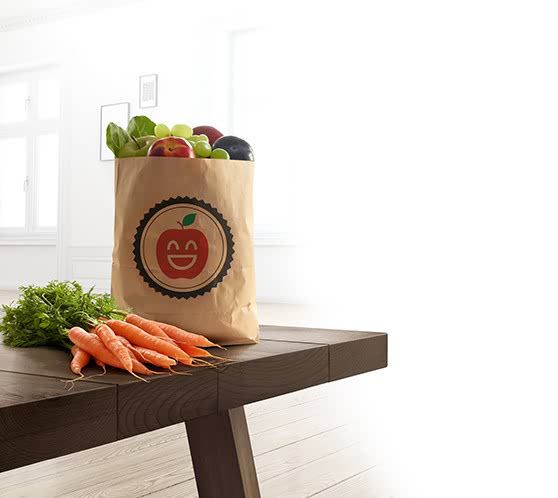 The fridge that regulates itself.
Uneven cooling in your freezer can greatly affect the flavour and longenvity of your food. Our fan-assisted MultiAirflow System causes gentle, even currents of cold air to emerge at all levels of the chilling and freezing area. Temperature fluctuations are minimised and cooling times reduced – which helps your foods retain their integrity for longer. Enjoy freshness from top to bottom.
Lots of space for XXL frozen food with the BigBox drawer.
An extra-deep frozen food drawer for practical stacking of frozen food containers or large frozen items like ice-cream or pizzas. No matter whether you have to cater for a child's birthday or freeze a wedding cake – in the BigBox you will find enough space for large frozen goods.
FreshSense
Thanks to the optimum storage conditions, your food preserves an ideal consistency; ice cream, for instance, is neither too soft nor too hard. A constant temperature in the fridge interior is a decisive factor in achieving more freshness and flavour. FreshSense sensors constantly monitor and control the ambient, fridge and freezer temperature. A constant temperature inside the fridge, independent of the outer temperature, is the result.
Never defrost your fridge again.
Defrosting a fridge by hand can be very annoying and time-consuming. Thanks to our new fridges with NoFrost, you can easily remove this task from your to-do list for good. Unlike in conventional fridges, the air humidity in a NoFrost fridge is permanently collected in a central chiller unit, which automatically defrosts on a frequent basis. The resulting condensation is simply channelled outside out of the fridge, where it then evaporates. This way, NoFrost permanently keeps your fridge free of not only ice, but also the need for manual defrosting. Enjoy some ice cream instead.
Full flexibility in the freezer area.
You can remove all the safety glass shelves in the freezer area really easily to create more space – to store a multi-level cake, for example, or a whole turkey. Large foods such as a family-sized pizza can be stacked on the glass surfaces without any problem.
AirFresh Filter: the fridge that freshens up by itself.
Intense food smells like fish and cheese absorbing into your fridge is something every kitchen can do without. The AirfreshFilter with antiBacteria feature actively neutralisies odours inside the refrigerator and filters out bacteria. Unpleasant substances from foods with strong odours are absorbed, leaving you with a kitchen that smells clean and fresh. For added peace of mind, the filter does not require replacement for the entire life of the appliance.
Pull-out shelf to have full access to any items.
The shatterproof, frameless glass shelves are particularly easy to use, thanks to the smooth pull-out mechanism. And they also give you a clear view of your food at any time – even the items at the very back are not forgotten.
Keeps the contents of your fridge in the spotlight.
LED lights bring a completely new lighting concept to fridges, guaranteeing even, glare-free interior illumination. LED lights use less electricity than conventional fridge bulbs and last for the entire life of the appliance.
Additional Product Information:
Consumption
Energy efficiency class: A++ (325 kWh per year). Actual energy consumption will depend on how the appliance is used and where it is located.
Total net capacity: 505 litres
Noise level dB(A) re 1 pW: 42
Design
Doors Black, side panels Steel Look
LED with Soft Start in fridge section
Comfort and Safety
Frost free – never again defrosting
External In-Door LCD Electronics
Supercool function
Superfreeze Function
Optical and accoustic warning system
Holiday mode Economy setting Child lock
Fridge Section
Net capacity refrigeration zone: 400 l
Multi Airflow-System
Air Fresh Filter
4 safety glass shelves of which 3 glass plates extendible
4 door bins, 1 dairy compartment4 door bins, there of 1x dairy compartment
Pull-out tray with Breakfast box
Freshness System
VitaFresh plus: keeps food fresh for up to twice as long
Freezer Section
Net freezer capacity 105 litres
Freezing capacity: 18 kg in 24 hours
Storage time in power failure: 24 Hours
2 freezer drawers, incl. 1 Big Box
APPLIANCE DIMENSION
Dimensions: H 193 cm x L 70 cm x D 80 cm
TECHNICAL INFORM
A
TION
Door right hinged, reversible
Height adjustable front feet, roles in the back
Climate Class SN-T
Connected load 100 W
Rated Voltage 220 – 240 V
Standard Accessories
3 x egg tray, 1 x ice cube tray with lid, 1 x bottle holder in door tray
Country Specific Options
Gross capacity, total: 559 l
Gross capacity cooling 417 l
**** freezer 142 l (-18°C and below)
Based on the results of the standard 25-hour test. Actual consumption depends on usage/position of the appliance.
Additional product information
General
| | |
| --- | --- |
| Width of the product (mm) | 700 mm |
| Height of the product (mm) | 1,930 mm |
| Main colour of product | black |
| Refrigerator Net capacity (l) – NEW (2010/30/EC) | 400 l |
| Freezer Net capacity (l) – NEW (2010/30/EC) | 105 l |
| Energy efficiency class | A++ |
| Energy consumption annual (kWh/annum) – NEW (2010/30/EC) | 325.00 kWh/annum |
| Temperature display fridge | digital LCD |
| Noise level (dB(A) re 1 pW) | 42 |
| Door hinge | Right reversible |
| Shelves for Bottles | |
| Length electrical supply cord (cm) | 240 cm |
| Included accessories | 3 x egg tray, 1 x ice cube tray with lid, 1 x bottle holder in door tray |
Design
| | |
| --- | --- |
| Main colour of product | black |
| Number of compressors | 1 |
| Construction type | Free-standing |
| Type of control | Electronic |
| Number of independent cooling systems | 2 |
| Door hinge | Right reversible |
| Door panel options | Not possible |
| Frost free system | Fridge and freezer |
| Door opened indicator freezer | |
| Installation typology | N/A |
Size and weight
| | |
| --- | --- |
| Depth of the product | 800 mm |
| Height of the product (mm) | 1,930 mm |
| Net weight (kg) | 105.718 kg |
| Width of the product (mm) | 700 mm |
Cooling
| | |
| --- | --- |
| No. of shelves in fridge | 4 |
| No. cont. in refrig. comp. | 4 |
| No. of egg racks | 3 |
| Defrost process fridge section | Automatic |
| Number of Adjustable Shelves in fridge compartment | 3 |
| Number of shelves in fridge compartment | 4 |
| Temperature display fridge | digital LCD |
Freezing
| | |
| --- | --- |
| No. of ice cube trays | 1 |
| Defrost process freezer section | Automatic |
| Freezing drawers (Stck) | 2 |
| Number of freezing flaps (Stck) | 0 |
| Automatic motor-driven ice-maker | |
| Temperature adjustable freezer | |
| Thaw water drainage system | |
Comfort
| | |
| --- | --- |
| Included accessories | 3 x egg tray, 1 x ice cube tray with lid, 1 x bottle holder in door tray |
| Shelves for Bottles | |
| Type of control setting and signalling devices | Economy setting / Holiday mode, Super setting for freezer, Super setting fridge, Temperature display fridge, Temperature for freezer, Warning function freezer sect., Warning signal door open, Warning signal for malfunction |
| Lockable door | |
| Fast cooling switch | |
| Fast freezing switch | |
| Humidifying equipment | |
| Storage period in pow. failure | 24 h |
| Star Rating | 4 |
| Warning signal / malfunction | visual and audible |
| Warning signal door open | visual / acoustic |
Connection
| | |
| --- | --- |
| Connection rating (W) | 100 W |
| Length electrical supply cord (cm) | 240 cm |
| Current (A) | 10 A |
| Frequency (Hz) | 50 Hz |
| Plug type | Gardy plug w/ earthing |
| Voltage (V) | 220-240 V |