Description
The ActiveWater 60 with VarioSpeed: Rinses and dries your dishes thoroughly in half the time.
The perfect cleaner that never wastes a drop.
Not all washing loads are the same, so why should each cycle automatically use the same amount of water? The LoadSensor feature uses a rotary speed sensor to detect the load weight and water level, so that only the required amount of water is used. For example, smaller loads require less water for rinsing, so less water is added, whereas full loads are given more water for optimal soaking. A feature that delivers perfect results while saving you water and electricity? Now that's smart.
EcoSilence Drive: dishwashing like you've never heard before.
Keeping the house clean can be difficult. Keeping it quiet can sometimes feel impossible. Our dishwashers with EcoSilence drive deliver high-performance cleaning with low noise emission. Equipped with a brushless, energy-saving motor that optimally reduces friction noise, the EcoSilence drive ensures a much smoother, quieter operation. Now you can enjoy a home that is as quiet as it is clean.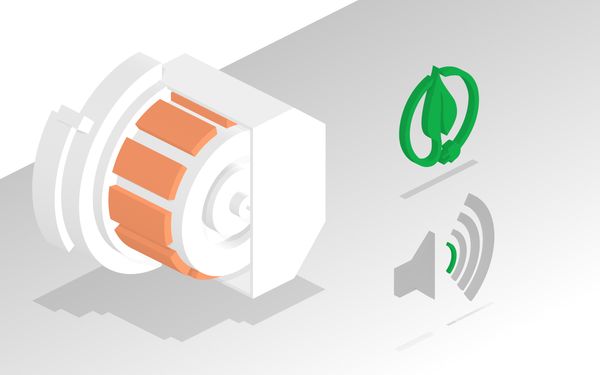 ActiveWater: less water, less energy, better performance.
Bosch's innovative ActiveWater technology maximises efficiency to produce outstanding results whilst protecting the environment. With carefully targeted water distribution, improved filter technology, faster heating and increased pump output for more water circulation, ActiveWater dishwashers give superb results.
Glass Protection Technology: keep your glasses shining brighter for longer.
It might surprise you to know that the type of water you clean with has a big impact on your glassware and delicate ceramics. Because soft water causes glass corrosion, Bosch dishwashers with glass protection technology constantly regulate the degree of hardness to ensure that valuable glasses and delicate china are always washed with special care. Proper care for your delicate wares without lifting a finger.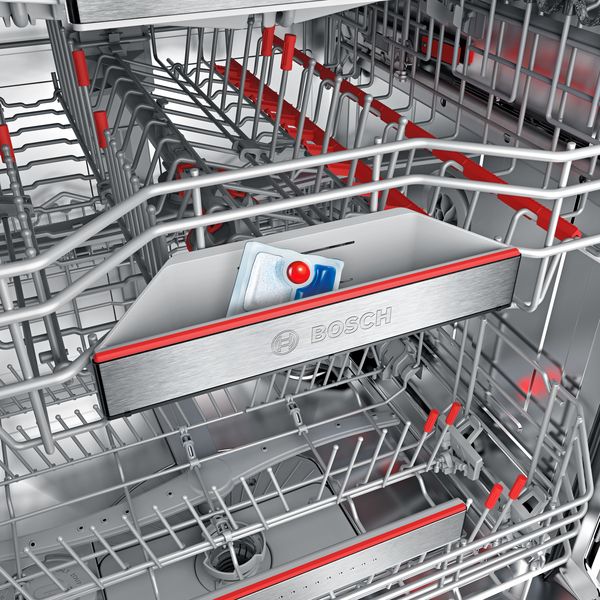 Dosage Assist
The dosage assist ensures optimal cleaning results and a quieter wash. The detergent drops out the detergent dispenser and into a special tray on the top basket where it gets completely dissolved.
10-Year Rust-Through Warranty
We have developed special surface treatments and production processes that are precisely tailored to the materials used in the interior of our dishwashers. As a result, a 10-year guarantee against rust through of the inner cavity, from the inside out, on all our dishwashers can be offered. This guarantee can be activated for all dishwashers purchased from 01.01.2012 onwards.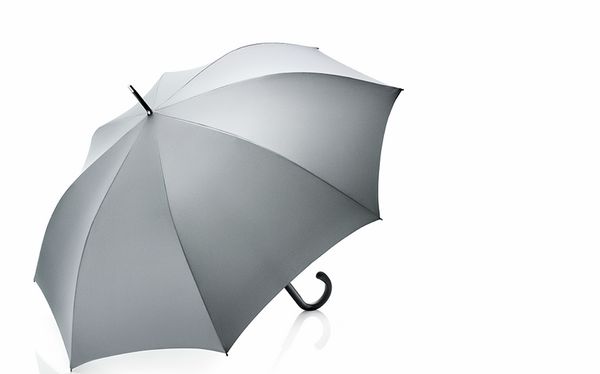 Additional product information
Capacity: 12 place settings
Energy Efficiency Class: A+
Power consumption off-mode / left-on mode: 0.1 W / 0.1 W
Water consumption in programme Eco 50: 11.7 litres
A rated performance for washing and A for drying
The information relates to the programme ​Eco 50. This programme is suitable to clean normally soiled tableware and is the most efficient programme in terms of combined energy and water consumption.
Programme time in programme Eco 50: 210 minutes
Duration of the left-on mode: 0 min
Noise level: 52 dB (re 1 pW)freestanding, can be built under
4 programmes: Normal 65 °C, Eco 50 °C, Quick wash 45 °C, Pre-Rinse
3 temperatures
ActiveWater hydraulic water system
DosageAssist detergent dispenser
BLDC
Load Sensor
Auto 3-in-1 detergent detection for best rinsing and washing results
Regenerative electronics
Stainless steel/Polinox drum
Washing + drying LEDs
Red LED indicators
LED salt refill indicator
LED rinse aid refill indicator
Programme selector with integrated start button
Cutlery basket in lower rack
2 foldable cup shelves in top basket
Single water protection 24h
Aquamix – Glass protection system
Dimensions of the product (HxWxD): 84.5 x 60 x 60 cm
Additional product information
General
| | |
| --- | --- |
| Width of the product (mm) | 600 mm |
| Height of the product (mm) | 845 mm |
| Installation typology | Built-under |
| Number of place settings | 12 |
| Water consumption | 11.7 l |
| Energy efficiency class | A+ |
| List of programmes | Normal, Pre-Rinse, Quick wash |
| Additional operational options | VarioSpeed |
| Digital countdown indicator | |
| Noise level (dB(A) re 1 pW) | 52 |
| 3rd Rack | None |
| Interior light | |
| Removable top | |
| Length electrical supply cord (cm) | 175 cm |
| Length outlet hose (cm) | 190 cm |
| Power consumption in off-mode (W) – NEW (2010/30/EC) | 0.10 W |
| Power consumption in left-on mode (W) – NEW (2010/30/EC) | 0.10 W |
| Duration of the left-on mode – NEW (2012/30/EC) (min) | 0 min |
Connectivity
| | |
| --- | --- |
| Home Connect | |
| Connectivity type | N/A |
Construction type
| | |
| --- | --- |
| Color / Material body | White |
| Color / Material panel | White |
| Construction type | Free-standing |
| Door panel options | Not possible |
| Drying system | Inherent heat |
| Height of the product (mm) | 845 mm |
| Hidden heating element | |
| Installation typology | Built-under |
| Removable top | |
| Tub material | Plastic |
| Water softener | |
| Width of the product (mm) | 600 mm |
Size and weight
| | |
| --- | --- |
| Height of removable worktop (mm) | 30 mm |
| Adjustable plinth | |
| Net weight (kg) | 42.046 kg |
Programmes
| | |
| --- | --- |
| Drying progress indicator | water inlet |
| List of programmes | Normal, Pre-Rinse, Quick wash |
| Name, programme 1 | Normal |
| Name, programme 2 | Normal |
| Name, programme 3 | Quick Wash |
| Name, programme 4 | Prerinse |
| Programme duration, programme1 (min.) | 130 |
| Programme duration, programme2 (min.) | 210 |
| Programme duration, programme3 (min.) | 29 |
| Programme duration, programme4 (min.) | 15 |
| Reference programme | Eco |
| Number of different wash temperatures | 3 |
| Temperature, programme 1 (°C) | 65 |
| Temperature, programme 2 (°C) | 50 |
| Temperature, programme 3 (°C) | 45 |
Safety
| | |
| --- | --- |
| Glass protection techn. | |
| Surge-back protect. installed | |
| Water protection system | Total system |
Consumption values
| | |
| --- | --- |
| Glass protection techn. | |
| Energy consumption (kWh) | 1.02 kWh |
| Cleaning performance | A |
| Drying performance | A |
| Energy consumption, programme1 (kWh) | 1.35 |
| Energy consumption, programme2 (kWh) | 1.02 |
| Energy consumption, programme3 (kWh) | 0.8 |
| Energy consumption, programme4 (kWh) | 0.05 |
| Water consumption, programme 1 (l) | 14 |
| Water consumption, programme 2 (l) | 11.7 |
| Water consumption, programme 3 (l) | 10 |
| Water consumption, programme 4 (l) | 4 |
| Water consumption | 11.7 l |
| Maximum temperature for water intake (°C) | 60 °C |
Connection
| | |
| --- | --- |
| Connection rating (W) | 2,400 W |
| Length electrical supply cord (cm) | 175 cm |
| Current (A) | 10 A |
| Length inlet hose (cm) | 150 cm |
| Length outlet hose (cm) | 190 cm |
| Plug type | South Africa plug |
Consumption values
| | |
| --- | --- |
| Glass protection techn. | |
| Energy consumption (kWh) | 1.02 kWh |
| Cleaning performance | A |
| Drying performance | A |
| Energy consumption, programme1 (kWh) | 1.35 |
| Energy consumption, programme2 (kWh) | 1.02 |
| Energy consumption, programme3 (kWh) | 0.8 |
| Energy consumption, programme4 (kWh) | 0.05 |
| Maximum temperature for water intake (°C) | 60 °C |