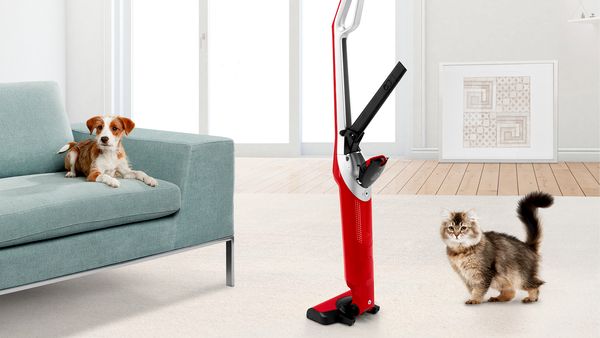 Integrated accessories for pet owners – always within reach.
No more wasting time looking for accessories. They're integrated directly into the device and can be combined. The flexible crevice nozzle extends so you can reach awkward corners and high ceilings. A specially designed nozzle brush roll collects pet hair more efficiently.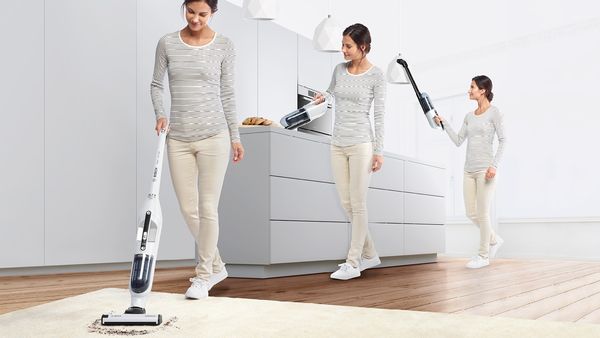 Cleaning on all levels. Floor, upholstery, ceiling and your car.
Vacuuming on every level – from the floor to the ceiling, is now possible. This vacuum cleaner comes with useful accessories that allows you to clean all kinds of flooring as well as other surfaces, such as tables, upholstery and even your car's interior.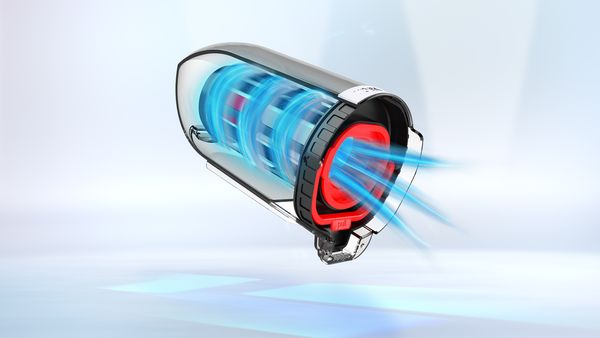 Constantly high performance.
Vacuum cleaners tend to loose suction when the dustbox fills up. The effective RobustAir System delivers consistent high performance thanks to air flow and improved seals. This means the dustbox and filter require less frequent cleaning.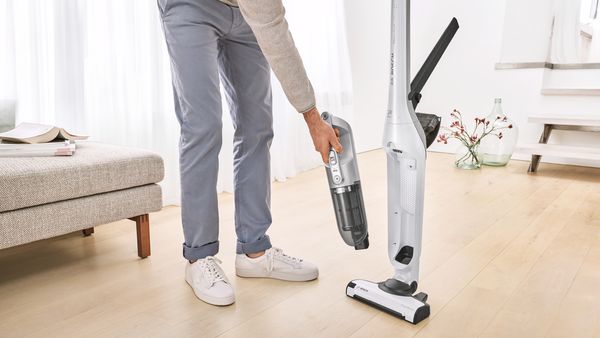 2in1 – For maximum flexibility.
The vacuum cleaner can be simply used on its own without any accessories. The handheld vacuum is easy to use and handle, with an ergonomically placed power switch and easy balance. The vacuum cleaner is also ideal for quickly cleaning tables, chairs and sofas or for vacuuming hard-to-reach areas such as drawers and under furniture. Even the dust box and filter are easy to empty and replace.
AllFloor Brush. One nozzle for easy cleaning of all floor types.
Every home is unique. The motorised AllFloor Brush ensures visible cleaning results on all floors including parquet, carpets and tiles. For fast cleaning results it operates at high revs (up to 3,500 rpm).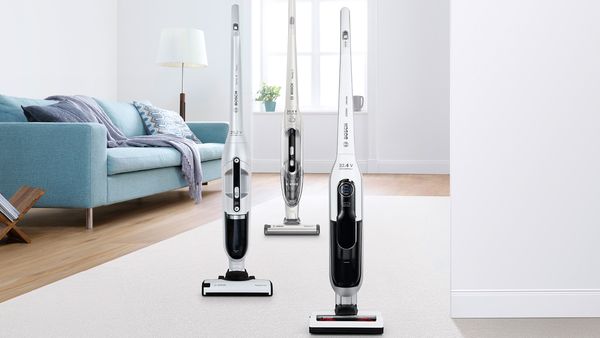 Can be set aside on its own
The cordless vacuum cleaner can compactly fit in any niche or corner, thanks to its slim design. It can also be set aside on its own, which is an advantage when you are taking a short break from vacuuming or when you are recharging the appliance.
General
Special purpose: For pet owners
Main colour of product: Tornado red
Dimensions: 1150 x 265 x 180 mm
Performance
2 in 1: handheld and handstick in one appliance: Yes
Battery cell type: Accu Li-Ion
Nominal voltage battery pack: 25.2 V
Battery capacity: 2.00 Ah
Noise level: 81 dB(A) re 1 pW
Filtration system: Bagless
contents, dust container: 0.4 l
Included accessories: 1 x extendable, flexible crevice nozzle, 1 x 2in1 furniture brush & upholstery nozzle, 1 x additional brush roll for floor nozzle
Carpet and hard floor nozzle: Universal wheeled