Show off your best side
Satisfy your organized side. Show off your stylish side. Designed for form and function, LG's Side-by-Side fridges have the capacity and easy access you've been looking for with looks that impress and perform.
Redesigned with Style in Mind
Take another glimpse every time you walk by this fresh design from LG and take in the contemporary vibe. Flat panels are enhanced with discreet pocket handles that offer easy access.
All the ice – All the space
Get all the ice you need without sacrificing shelf space. LG's innovative slim, in-door design frees up freezer shelf space so you can use every inch for storage while still enjoying easy access to ice when you need it.
SpacePlus ice maker on the freezer door dispenses traditional cubed ice. You'll have enough to fill the cooler.
Crushed ice is ready with an easy touch from the dispenser – perfect to cool drinks quickly from sports bottles on the weekend to happy hour cocktails.
Smooth Operations, Sleek Looks
Dispense everything from chilled filtered water to filtered cubed or crushed ice with just a light touch. This modern update is both beautiful and practical, designed to be easy to clean to stay looking fresh.
Cooling Technologies
This refrigerator keeps things cold and fresh, with the combined innovations of LG.
Door Cooling+
With Door Cooling+, door contents stay cool with blasts of cold air. And cold air in the freezer reaches more shelves, more evenly.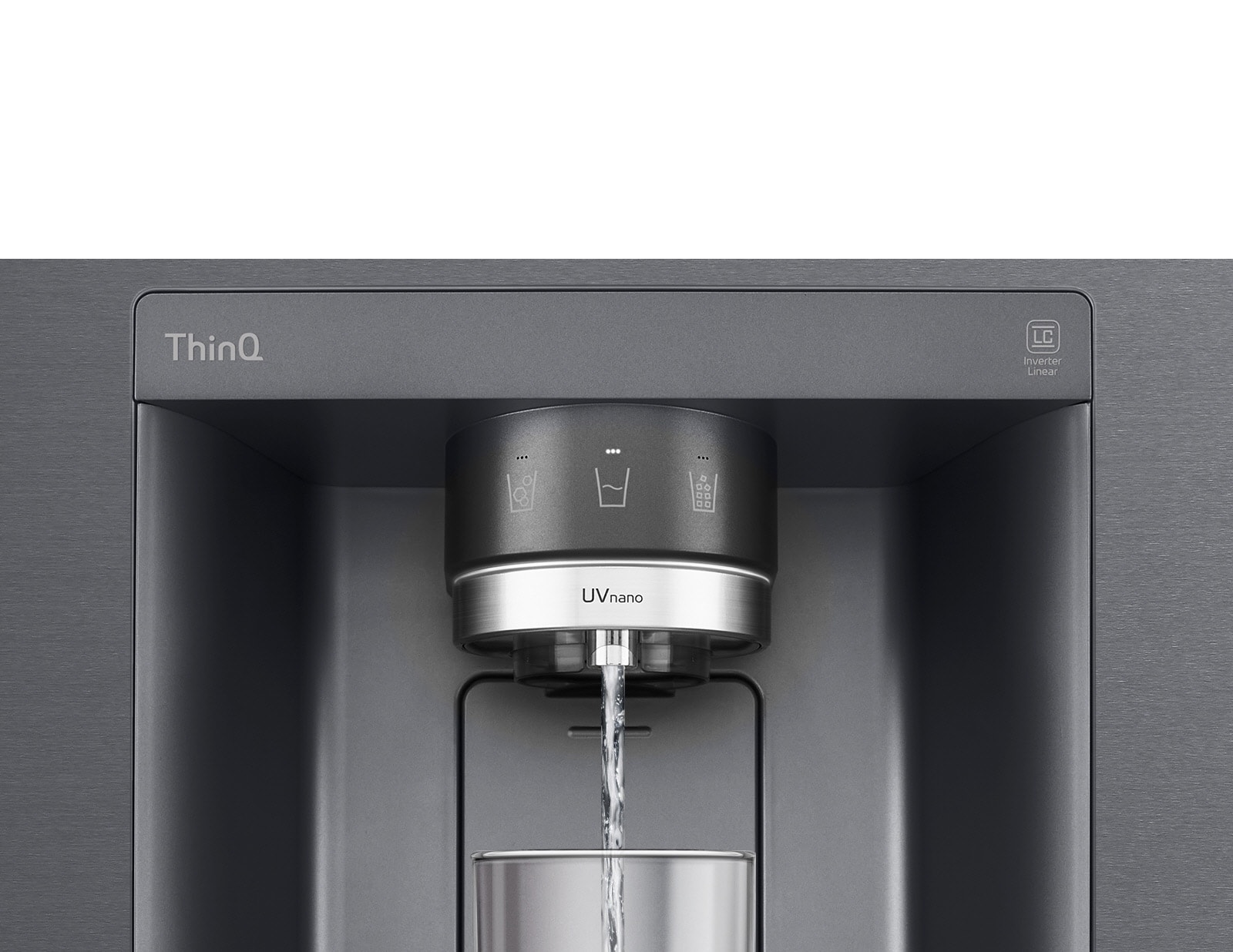 UVnano™
Refresh Your Dispenser Nozzle Every Day
Automatically reduce *99.99% of bacteria from the water nozzle with UV light.
*The UVnano (function name: Self Care) was assessed by laboratory tests by TÜV Rheinland using internal testing methods of measuring reduction of E. coli, S. aureus and P. aeruginosa in distilled water samples after exposure to the product's UV LED for 10 minutes each hour, after a total of 24 hours in normal household use. Actual results may vary depending on environmental conditions and usage. The product does not treat or cure health-related conditions and does not guarantee that water filtered by the product will be free from contaminants such as microbiological particles affecting health of users.
*UVnano is a compound of the words UV(ultraviolet) and nanometer(unit of length).
Dimensions
Specifications:
Product
Sales Model

GC-J257SLSS

Category

Side by Side

Main Change Point

Flat Door, Door Cooling,
New I&W Dispenser with UVNano
SPECIFICATION
Capacity(Gross/Net)

674L / 611L

Dimension : mm (WxHxD)

913 x 1,790 x 735

Finishing

Platinum Silver 3