Open the oven door to more cooking possibilities
Six different modes — Microwave, Grill, Convection, Microwave + Grill, Microwave + Convection, and Grill + Convection — help you get dinner on the table faster without sacrificing flavor or texture. For example, use the Microwave + Convection mode to cook a chicken in less time than a conventional oven, while crisping the skin. The diverse and convenient cooking modes help reduce energy usage too.
Make bread and yogurt in less time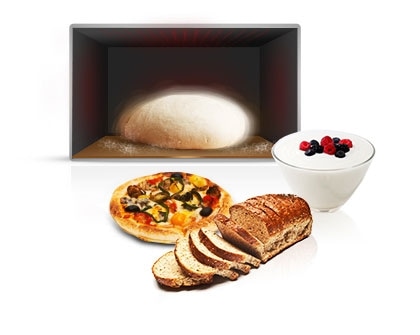 Baking bread or pizza, or making yogurt? You no longer need to search for a safe, warm and draft-free place where your dough can rise, or your yogurt can ferment. The Contrabass Convection Oven features Fermentation Mode, which ensures perfect, even, low-warm temperatures that can aide—and even hasten—the fermentation process. Get great results for your pizza crusts, braided rolls or tasty skyr.
Easy to use and easier to clean
Ceramic enamel serves up an easy-to-clean, hygienic, and durable interior. The exceptionally smooth inside surface makes it effortless to wipe off grease and oil, and the benefits of the ceramic enamel have been certified by the Hohenstein Institute in Germany, because it inhibits bacteria*. Ceramic enamel is scratch- and rust- resistant and unlike plastic, it doesn't discolour due to high-cooking temperatures or excessive cleaning. * Antimicrobial properties are built-in or applied as a coating to inhibit the growth of bacteria that may affect this product. The antimicrobial properties do not protect users or others against bacteria, viruses, germs or other disease organisms. Clean this product thoroughly before and after each use. Read the user manual carefully before cleaning this product. * Independent 3rd party test was conducted on the antimicrobial enamel in microwave model GS 89F-S. The test was conducted based on the ISO 22196:2007-10 standard.
Sensors help cook your recipes to perfection
Food freshness and oven type — microwave, convection, grill, or a combination — are two factors that can affect a recipe's cooking time, often leading to guesswork. Samsung's SmartSensor technology automatically detects the humidity level of your food, and then sets the optimal cooking time and power. So whether you're roasting a chicken, heating a frozen dinner, or cooking fresh vegetables, dishes come out perfectly, every time.
Specifications:
General Information
Installation

CMO

Capacity

1.6cu.ft (45L)

Heat Source

Convection

Power Output Power (Max)

900W

Power Consumption (Microwave)

1,550W

Power Source

230V / 50Hz

Power Level

6

Display Type

LED

Control Method

Tact + 2Dials

Door Opening Type

Handle

Microwave Distribution

Turntable

Cavity Interior

Ceramic Enamel

Language Option

No
General Feature
Various Cooking Mode

Yes

Max Cooking Time

99min

More/Less

No

Weight/Serving Control

Yes

One Minute/30 sec Plus

Yes

Preheat

Yes

Auto Steam Cook

No

Auto Cook

Yes

Sensor Cook

Yes

Turntable On/Off

No

Deodorizer

No

Reminder End Signal

Yes

Setting (My Choice) Child Lock

Yes

Clock System Option (12H/24H)

Yes

Sound Option

Yes
Accessory
Rack Round

Yes

Steam Cleaning

Yes

Steam Cooker

No

Power Steam Bowl

No

Crispy Tray

No

Rotisserie

No

Cook Book

No
Physical Specification
Loading Quantity 20/40Ft

324 sets (40ft)

Weight Net

23.5kg

Gross

28.9kg

Dimension Outside (WxHxD)

600 x 350 x 584mm

Gross (WxHxD)

673 x 429 x 639mm