Description
Conveniently maximise your storage space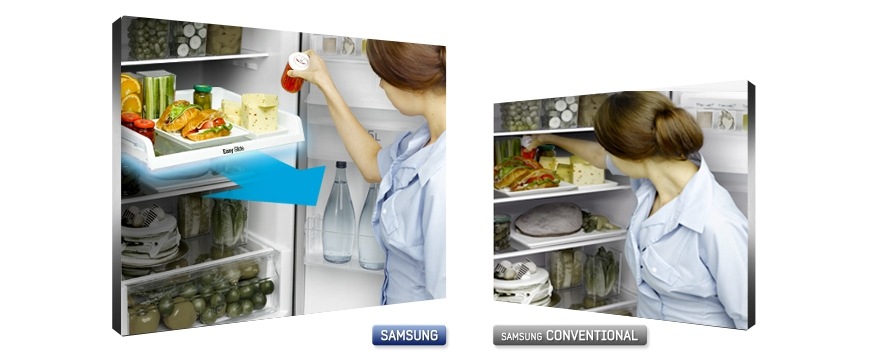 Reaching into a refrigerator to grab a tub of yogurt from the back often means navigating an obstacle course of food items, like a 7-layer cake or a jar of pickles. One wrong move could mean squished icing or broken glass on the floor. The Easy Slide shelf is built on rolling hinges, and pulls out so you can efficiently organise and easily access your food items—and readily see just what you have store in the back.
Chill more beverages; quench more thirsts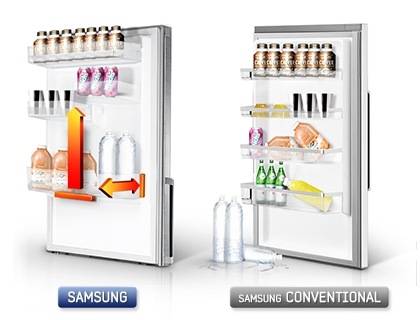 Convenient for the thirsty household, the Big Guard is deeper than shelves found in conventional refrigerators. Now you can store big containers of milk and juice in the door, along with two rows of beverage cans and bottles. Throwing a party? Use the Big Guard to chill tall bottles of water, soda, and other liquid refreshments.
Enjoy energy savings, less noise and a 10-year warranty
Unlike conventional compressors, which have just two patterns of start and stop, Samsung's Digital Inverter Compressor makes 5 different moving cycle based on humidity levels and usage patterns. This helps maintain a more consistent temperature, reduces wear and tear on the compressor for greater durability, and keeps noise to a minimum. You'll also enjoy the peace of mind that comes with lower electric bills and a 10-year warranty.
* Based on internal testing compared with Samsung conventional model.
Full Open Box
With a larger opening than conventional freezer drawers, the Full Open Box makes it easier to organise and remove items – even bulky foods. It extends out all the way for optimum use of space and the drawer's design lets you open it even if the refrigerator door is only open 90 degrees.

True No Frost
Samsung's No Frost maintains a constant temperature in every corner of the refrigerator, keeping perishable food fresh and nutritious and eliminating frost and the build-up of ice. Its improved efficiency places less demand on the cooling system, increasing its durability, and avoids the need to waste power on defrosting.
Can Carry
The Can Carry prevents canned beverages from rattling around, or being knocked over or shaken. Efficiently located above the water tank, the Can Carry keeps favourite beverages handy and tilts out for easy access.

Water Dispenser
Enjoy the convenience and functionality of an external water dispenser with no protruding elements, the slim dispenser is inset to maintain the refrigerator's sleek surface. It's so attractive you'll want to raise a glass of chilled water to its sophisticated style.
Specifications:
Capacity

Gross Total (liter)

329 

Net Total (liter)

308 

Net for Freezer (liter)

98 

Net for Fridge (liter)

210 

Physical specification

Net Width (mm)

595 

Net Case Height with Hinge (mm)

1,850 

Net Depth without Door Handle (mm)

668 

Net Depth without Door (mm)

601 

Packing Dimension (WxHxD) (mm)

640 x 1,930 x 720 

Net Weight (kg)

69.9 

Packing Weight (kg)

72 

20 / 40 / 40 H (Container)

27 / 54 / 72

Cooling Feature

Cooling Type

All Around Cooling

Refrigerator Feature

Number of Shelf (Total)

3 EA

Number of Shelf (Silde Out)

1 EA

Number of Door Pocket

4 EA

Egg Container (Egg Tray)

Yes

Interior LED Light

Top LED

Number of Vegetable&Fruit Drawer

1 EA

Freezer Feature

Drawer Type

Cool Pack (Mid Drawer)

General Feature

Door Reversible

Yes

Door Alarm

Yes

Refrigerant

R-600a

Cyclopentane Insulation

Yes

Compressor

Digital Inverter Compressor

Exterior Feature

Dispenser with Water Filter

Yes

Door Handle

Bar

Color

Inox

Energy
Installation