Description
Samsung BMF with Space Max Technology, 360 L – RB37J5942SL
All Around Cooling
Cooling Type
A+
Energy Efficiency Class
More inside – same outside
Has more inner storage space than an average BMF, but is the same size outside.* Its Space Max Technology is a slim-designed wall duct that creates extra internal capacity without compromising energy efficiency.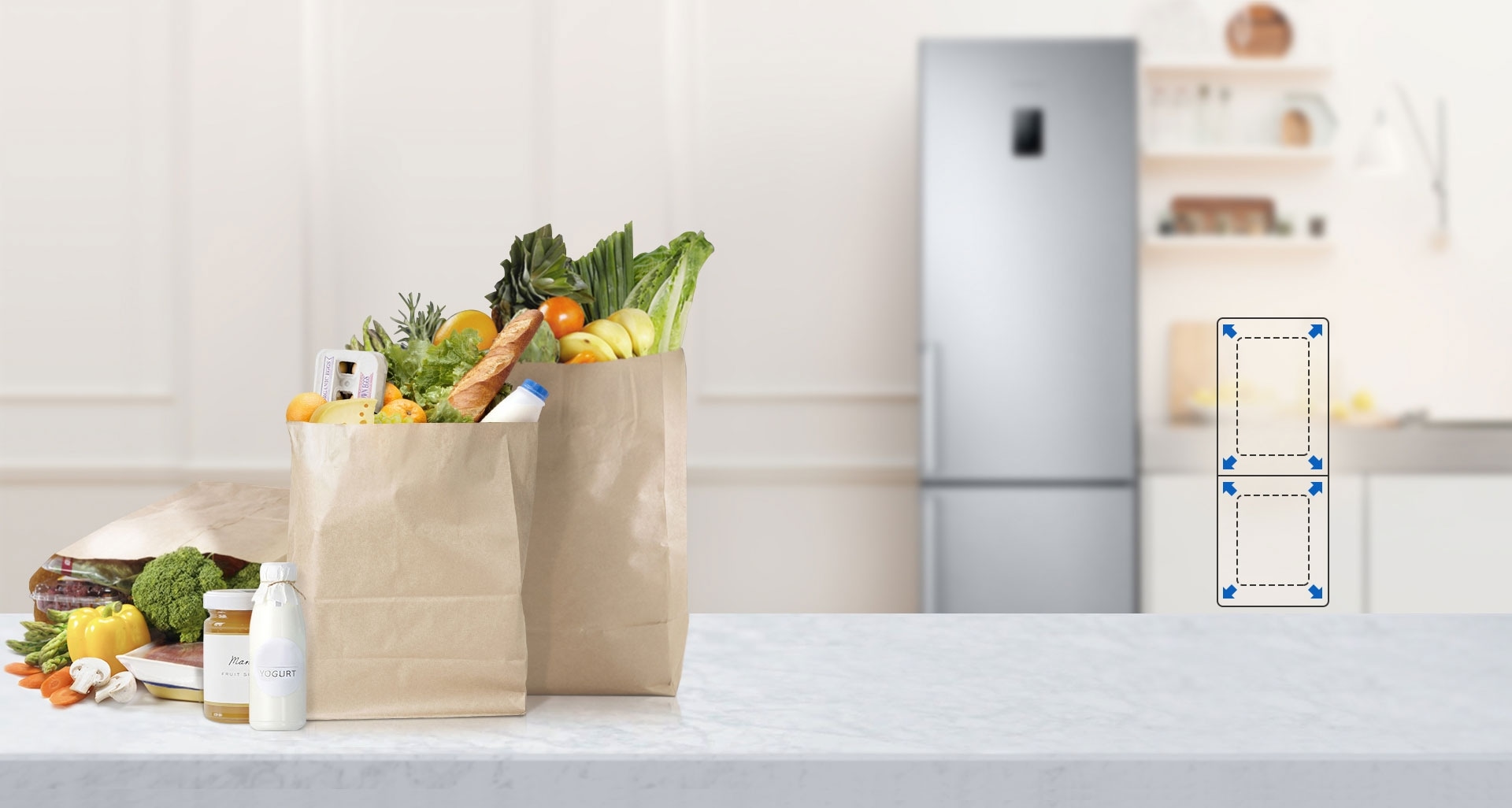 *In comparison with Samsung RL55VTEBG1 / RL50RGEMG1
All-Around Cooling
The All-around Cooling system cools the fridge evenly from corner to corner. Cold air is blown out through multiple vents on every shelf level, so it maintains a constant temperature and food stays fresher.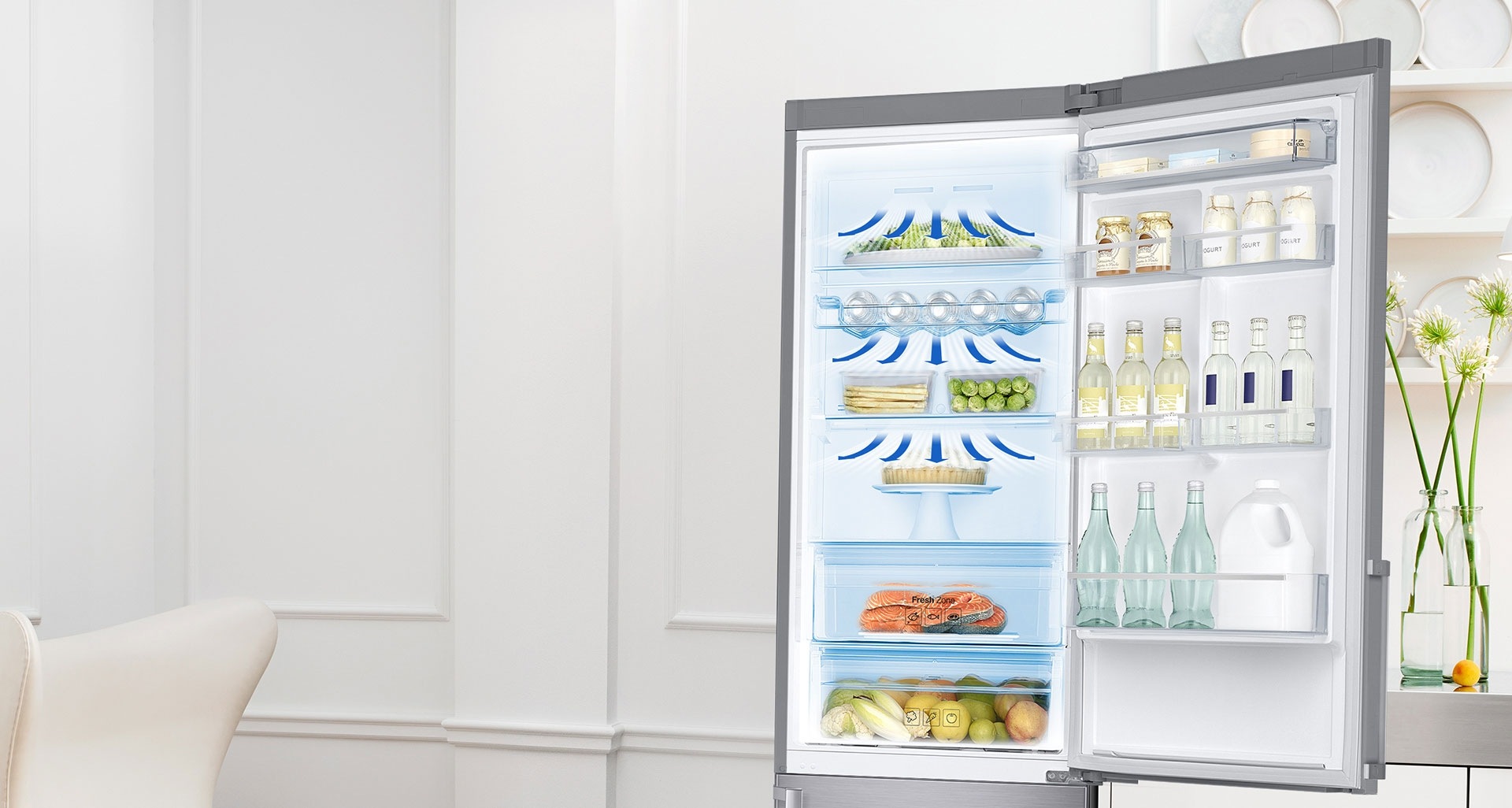 Ideal care for meat & fish
The Fresh Zone is smartly designed drawer that provides the ideal environment for preserving meat and fish – keeping them at the optimum temperature so they stay fresh and have the best possible flavor.
For taller and bigger items
A Slide-in shelf adds extra flexibility to your storage. It slides in and out to create more room for larger bottles and tall or bulky containers, so there's no wasted space.
Store it your way
4 Adjustable Door Bins help you easily organise and flexibly store differently sized items. You can adjust the bins to fit all sizes of bottles, cartons and other items for maximum use of your storage space.
Full Open Box (Freezer)
A larger opening makes organising and removing items easier while optimising storage space.
LED Lighting
LED lights brilliantly illuminate the refrigerator interior without compromising cooling power.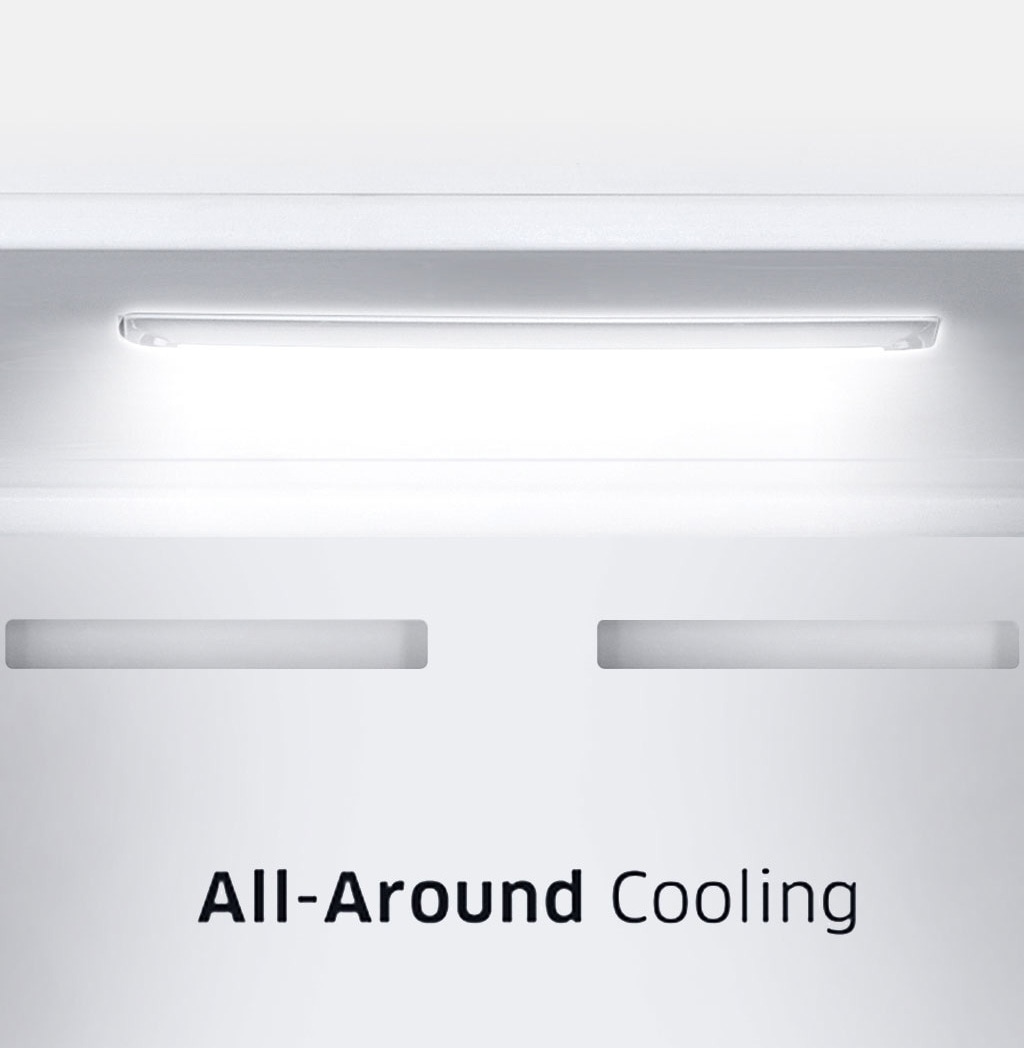 Works smart, stays young
A Digital Inverter Compressor automatically controls its speed in response to cooling demand across 7 levels. So it uses less energy, minimises noise and reduces wear and tear for a longer-lasting performance.
* The logo is awarded by Samsung.
No more ice buildup
No Frost Technology prevents the buildup of ice and maintains a constant temperature in every corner. It also cools nearly twice as fast**,placing less demand on the cooling system and increasing its durability.
**Based on a comparison of the Samsung frost fridge RL39THCTS and no frost fridge RB31FERNCWW. Individual results may vary depending on consumer usage
Specifications:
Capacity

Gross Total(Liter)

386 

Gross for Freezer(Liter)

118 

Gross for Fridge(Liter)

268 

Net Total(Liter)

360 

Net for Freezer(Liter)

98 

Net for Fridge(Liter)

262 

Physical specification

Net Width(mm)

595.0 

Net Case Height with Hinge(mm)

2,010.0 

Net Case Height without Hinge(mm)

2010 

Net Depth with Door Handle(mm)

675.0 

Net Depth without Door Handle(mm)

675 

Net Depth without Door(mm)

602.2 

Packing Dimension (WxHxD)(mm)

637 x 2,088 x 718 

Net Weight(kg)

72 

Packing Weight(kg)

75 

20/40/40H/Truck

54 / 54 / 63

Cooling Feature

No Frost

Yes

Multi Flow

Yes

Cooling Type

All Around Cooling

Refrigerator Feature

CoolSelect Zone™

No

Chill Compartment

Yes

Number of Shelf (Total)

3 EA

Number of Shelf (Foldable)

1 EA

Dairy Compartment

Yes

Wine Rack

Yes

Number of Door Pocket

5 EA

Egg Container(Egg Tray)

Yes

Interior LED Light

Yes

Shelf Material

Tempered Glass

Number of Vegetable&Fruit Drawer

1 EA

Power Cool Function

Yes

Freezer Feature

Number of Drawer

3 EA

Power Freeze Function

Yes

Icemaker

Ice Tray

Interior LED Light

No

General Feature

Door Alarm

No

Refrigerant

R-600a

Autonomy Hour (Temp rising)

18 h

Compressor

Digital Inverter Compressor

Exterior Feature

Water Dispenser

Yes

Display & Control (Fridge and Freezer)

Exterior

Door Handle

Bar

Color

ALF

Performance

Vacation Mode

Yes

Energy Efficiency Class

A+

Noise Level

37 dBA

Climate Class

SN-T

Freezing Capacity

12 kg / 24 h 

Category

Refrigerator Type

BMF

Construction

Free Standing

Depth

Counter Depth