Highlights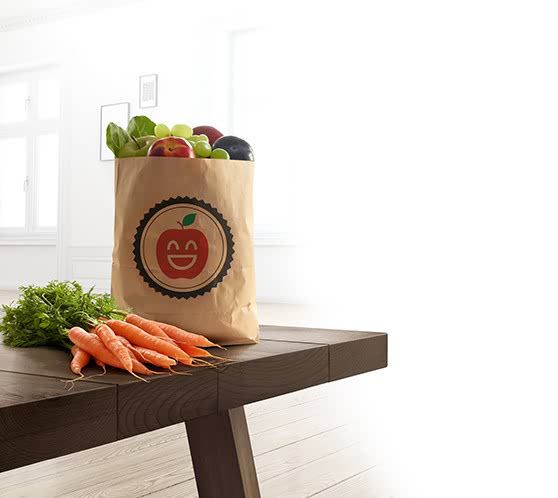 The fridge that knows how to keep it's cool.
Activate the SuperCooling function before you go shopping to lower the temperature in your fridge for a short period, so your fresh shopping is kept at the right temperature. The temperature is lowered by pushing a button (2°C at the lowest). To prevent unnecessary power consumption, the function automatically switches back after approximately 6 hours.
FreshSense
Thanks to the optimum storage conditions, your food preserves an ideal consistency; ice cream, for instance, is neither too soft nor too hard. A constant temperature in the fridge interior is a decisive factor in achieving more freshness and flavour. FreshSense sensors constantly monitor and control the ambient, fridge and freezer temperature. A constant temperature inside the fridge, independent of the outer temperature, is the result.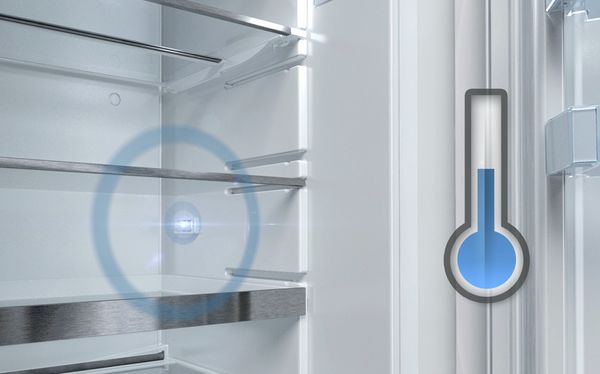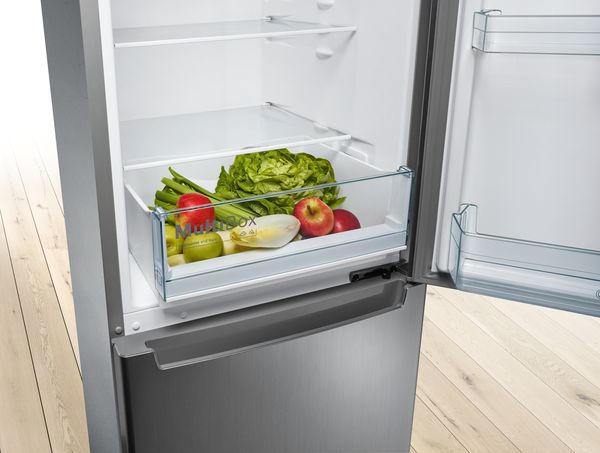 Enough space for all your fresh food.
The multi box drawer is suitable for storing fruits and vegetables – especially large items such as big lettuce will have enough space.
Keeps the contents of your fridge in the spotlight.
LED lights bring a completely new lighting concept to fridges, guaranteeing even, glare-free interior illumination. LED lights use less electricity than conventional fridge bulbs and last for the entire life of the appliance.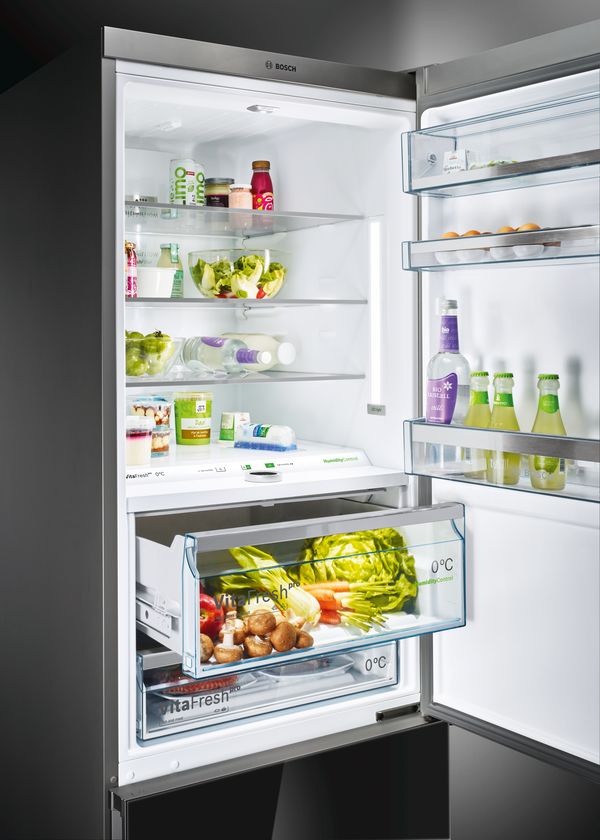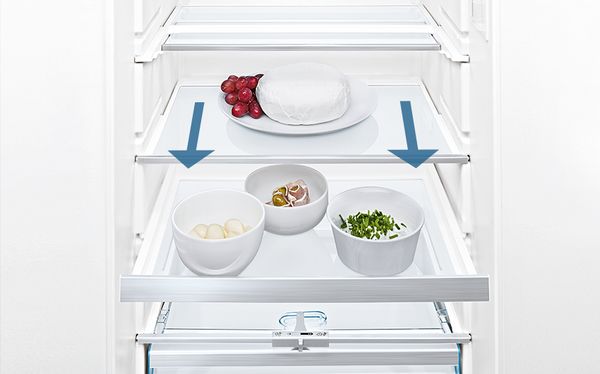 Pull-out shelf to have full access to any items.
The shatterproof, frameless glass shelves are particularly easy to use, thanks to the smooth pull-out mechanism. And they also give you a clear view of your food at any time – even the items at the very back are not forgotten.
Additional product information
Consumption
Energy efficiency class: A++
Energy efficiency class: A++ (110 kWh per year). Actual energy consumption will depend on how the appliance is used and where it is located.
Total net capacity: 324 litres
Noise level dB(A) re 1 pW: 39
Design
Doors inox EasyClean, side panels Steel Look
Internal LED lights
Comfort and Safety
LED electronic control
freshSense – constant temperature by intelligent sensor technology
Supercool function
Auto defrost
Fridge Section
Net capacity refrigeration zone: 324 l
Interior Fan
2 door shelf large, 3 door shelf small
APPLIANCE DIMENSION
Dimensions: H 176 cm x L 60 cm x D 65 cm
TECHNICAL INFORMATION
Door left hinged, reversible
Height adjustable front feet, roles in the back
Connected load 90 W
Rated Voltage 220 – 240 V
Climate Class SN-T
Standard Accessories
2 x egg tray


Specifications:

General

| | |
| --- | --- |
| Width of the product (mm) | 600 mm |
| Height of the product (mm) | 1,760 mm |
| Main colour of product | Stainless steel (with anti-fingerprint) |
| Refrigerator Net capacity (l) – NEW (2010/30/EC) | 324 l |
| Energy efficiency class | A++ |
| Energy consumption annual (kWh/annum) – NEW (2010/30/EC) | 110.00 kWh/annum |
| Temperature display fridge | digital LED |
| Noise level (dB(A) re 1 pW) | 39 |
| Door hinge | Left reversible |
| Material ofthe shelves | Glas, plastic, support grid, wood |
| Shelves for Bottles | |
| Length electrical supply cord (cm) | 230 cm |
| Included accessories | 2 x egg tray |

Design

| | |
| --- | --- |
| Construction type | Freestanding appliance |
| Color / Material body | Chrome Inox-metallic |
| Number of compressors | 1 |
| Type of control | Electronic |
| Number of independent cooling systems | 1 |
| Door In Door | |
| Door hinge | Left reversible |
| Door panel options | Not possible |
| Frost free system | |
| Door opened indicator freezer | |
| Installation typology | N/A |
| Cold technology | 1 compressor/1 cold circuit |
| Material ofthe shelves | Glas, plastic, support grid, wood |

Size and weight

| | |
| --- | --- |
| Depth of the product | 650 mm |
| Height of the product (mm) | 1,760 mm |
| Net weight (kg) | 64.513 kg |
| Width of the product (mm) | 600 mm |

Consumption values

| | |
| --- | --- |
| Energy efficiency class | A++ |
| Energy consumption annual (kWh/annum) – NEW (2010/30/EC) | 110.00 kWh/annum |

Cooling

| | |
| --- | --- |
| No. of shelves in fridge | 6 |
| No. cont. in refrig. comp. | 1 |
| No. of egg racks | 3 |
| No. of temperature zones fridge | 3 |
| Number of Adjustable Shelves in fridge compartment | 5 |
| Number of shelves in fridge compartment | 6 |
| Temperature display fridge | digital LED |

Freezing

| | |
| --- | --- |
| Freezing drawers (Stck) | 0 |
| Number of freezing flaps (Stck) | 0 |
| Automatic motor-driven ice-maker | |
| Temperature adjustable freezer | |
| Thaw water drainage system | |

Comfort

| | |
| --- | --- |
| Included accessories | 2 x egg tray |
| Shelves for Bottles | |
| Type of control setting and signalling devices | Super setting fridge, Temperature display fridge |
| Lockable door | |
| Fast cooling switch | |
| Fast freezing switch | |
| Star Rating | |
| Warning signal / malfunction | No signal |
| Warning signal door open | without |

Connection

| | |
| --- | --- |
| Connection rating (W) | 90 W |
| Length electrical supply cord (cm) | 230 cm |
| Current (A) | 10 A |
| Frequency (Hz) | 50 Hz |
| Plug type | South Africa plug |
| Voltage (V) | 220-240 V |