Enough space for all your fresh food.
The multi box drawer is suitable for storing fruits and vegetables – especially large items such as big lettuce will have enough space.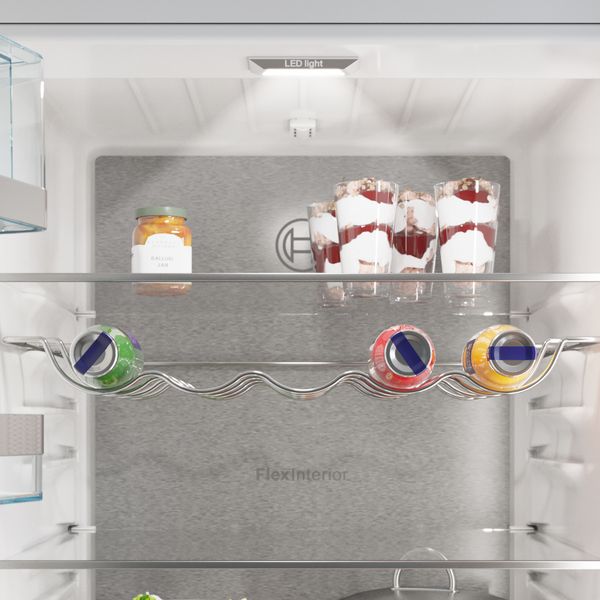 Keeps the contents of your fridge in the spotlight.
LED lights bring a completely new lighting concept to fridges, guaranteeing even, glare-free interior illumination. LED lights use less electricity than conventional fridge bulbs and last for the entire life of the appliance.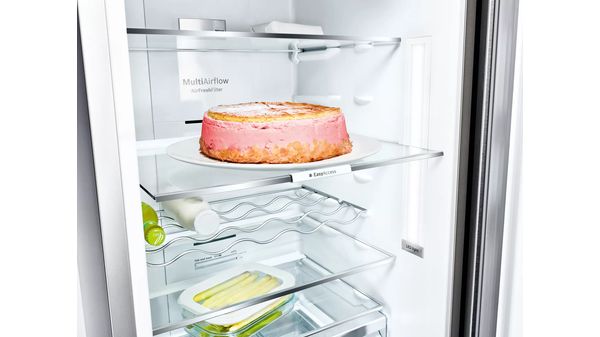 Easy access to the contents of your fridge.
When your fridge is well-stocked, it's hard to keep track of food tucked away at the back. That's why our Easy Access Shelf is made so you can see your fridge contents at a glance. Simply pull it open for easy access to all your food. Made of shatterproof glass, this easy-to-handle shelf lets you quickly find the right ingredients for your next meal.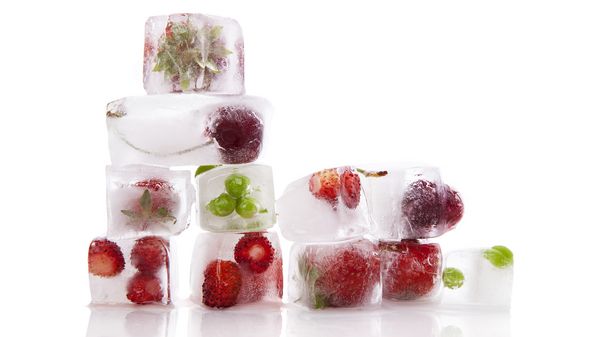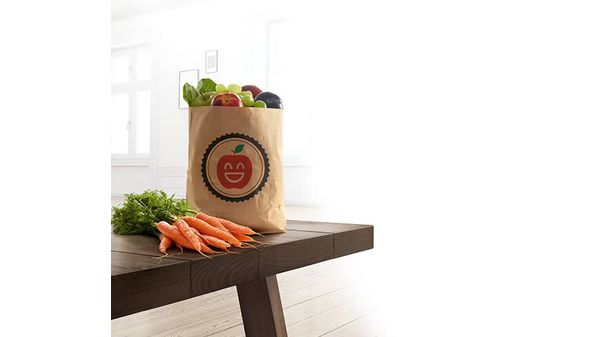 The fridge that knows how to keep its cool.
Activate the Super Cooling function before you go shopping to lower the temperature in your fridge for a short period, so your fresh shopping is kept at the right temperature. The temperature is lowered by pushing a button (2°C at the lowest). To prevent unnecessary power consumption, the function automatically switches back after approximately 6 hours.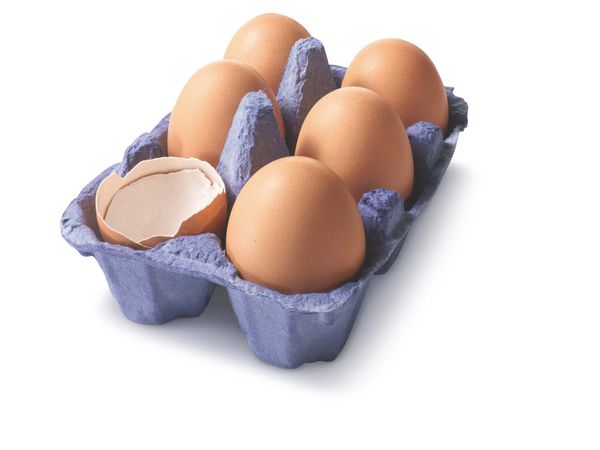 Egg rack
The egg rack keeps your eggs safe inside your fridge.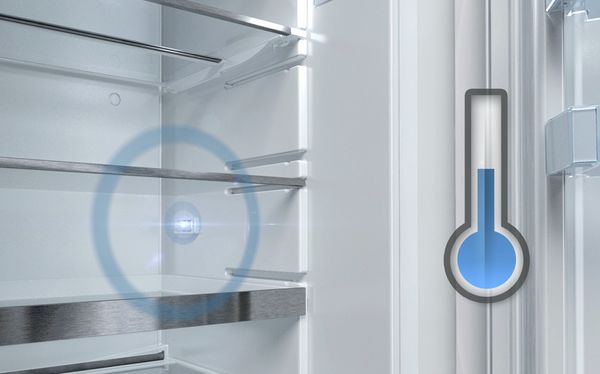 FreshSense
Thanks to the optimum storage conditions, your food preserves an ideal consistency; ice cream, for instance, is neither too soft nor too hard. A constant temperature in the fridge interior is a decisive factor in achieving more freshness and flavour. FreshSense sensors constantly monitor and control the ambient, fridge and freezer temperature. A constant temperature inside the fridge, independent of the outer temperature, is the result.
Additional product information
General
Main colour of product: White
Door hinge: Left reversible
Door panel options: Not possible
Door handle type: vertical bar handle
Type of control setting and signalling devices: Controlled operation display, Super setting fridge, Temperature display fridge
Energy efficiency rating: A++
Energy consumption annual – NEW (2010/30/EC): 110.00 kWh/annum
Noise level: 39 dB(A) re 1 pW
Total unit net capacity: 324 l
Total unit gross capacity: 326 l
Refrigerator Gross capacity: 326 l
Freezer Gross capacity: 0 l
Included accessories: 2 x egg tray
Size and weight
Dimensions: 1760 x 600 x 650 mm
Comfort
Type of bottle rack: Without
Cooling
Number of shelves in fridge compartment: 6
Number of Adjustable Shelves in fridge compartment: 5
Number of Door Bins – Refrigerator: 5
Light Wattage – Refrigerator: LED